Your Resume Header Part 1
This is the easiest part!
At the top of the document you will place your name, your email address, and your phone number.

See? Easy!
You can insert a line below it to mark the begining of the content, but that's completely optional.
Your Resume Header Part 2
You might have some questions here. Traditionally, a resume includes a person's mailing address doesn't it?
Traditionally yes, but not today. Why? Because hiring managers can consciously or unconsciously use this personal information to determine if the candidate (you) is 'too far away'. Worse yet, they can make assumptions about you personally based on your location. To circumvent this, omit the address.
Also, if you're looking for remote jobs this information is mostly irrelevant.
You may add your region if your current/last company or phone area code don't match your current city. One way to do this is to include the name of the metro or the metro region (e.g. Metro Chicago, Bay Area California, Dallas-Fort Worth, etc.)
Other things to consider:
Titles/Post-Nominals:
If you have a degree, license, or certification that you wish to use you can certainly add them. You may wish to omit them on resumes uploaded with applications because a computer might misinterpret Dr. John Doe SHRM Ph.D. as First Name = "Dr John" and Last Name as "Doe Shrm Phd".
LinkedIn Hiring Managers almost always review your LinkedIn profile in addition to your to resume, so make certain they're looking at the correct person. Search your name on LinkedIn and see how many others come up with identical or similar names- you'll probably be amazed. So copying the LinkedIn URL, more commonly called a hyperlink or web address, could be useful. Write it out instead of copy/pasting the link to avoid getting caught in an email filter. (remove the "https://www.")
An example of a LinkedIn URL would be: linkedin.com/in/username
Portfolio or website links:
If you have a portfolio or website that is relevant to the positions you're applying to, you can add them as well.
Twitter or other social media feeds:
Add them only if you're using your account(s) to share content related to your industry. Audit your posts if you decide to use them and consider removing potentially offensive or questionable posts that would reflect poorly on you as a candidate.
'Remove' web links from your resume document.
Right-click them and remove the hyperlink. Sometimes spam filters will reject attachments containing hyperlinks. Taking away the https:// will often do the same thing.
What if you need more than one page?*
So, if you have a page 2- do you need a header there as well? Yes, you'll want to include your header on all resume pages* on the off chance the pages get separated.
Simply add ' – Page 2' to your Header on the second page. Match the font size on the body for contrast.
For example:

*Your resume should not be over two pages unless necessary. If it's more than two pages, consider editing it to focus on the most essential information. Studies have shown most people read only a small portion of the resume's first page and then skip to the end to check supporting information such as education.
Also, having three or more pages does not reflect well on the candidate. Be sure to get to the point quickly within the first or second page.
You have gathered your personal data and created a new document in Assignments #1.1 and #1.2.
Now you're ready to start writing your resume.
Write your Header following the guidelines above.
Be sure to save your work as you progress or turn on auto-save if it is disabled
Writing your resume 'Introduction'
In this section, we will focus on the 'Top of the Fold' of your resume- Professional Summary and Key Accomplishments. This is the most important part of your document, so the time spent here is well invested!
Tip: You can always write this section in a separate document and copy/paste it into your resume once you're satisfied with the content.
Below are some examples from professional resumes to give you an idea what this section should look like.
---
Summary Example 1:
Results-driven leader known for identifying opportunities to enhance organizational efficiencies while remaining compliant to complex federal guidelines. Self-motivated, problem solver possessing a unique ability to implement technology into organizations to enhance efficiency and service without losing the personal touch. Recognized for a clear and direct communication style that ensures things are done right the first time.
Summary Example 2:
Distance learning professional with over a decade of experience creating strategies to solve performance issues and inspire forward movement, cultivating optimism in uncertain times. Applies proven expertise in instructional design, education technology management, corporate training, and coaching to bridge boundaries through trust and find innovative answers to problems. Known for a human-centered design approach focused on effective solutions to difficult problems.
Key Accomplishments Examples:
Created a risk index model while collaborating with a 5-person team to develop systems and processes to measure risk at 15+ international sites. Implemented a quarterly reporting structure which measured and analyzed both cost and quality metrics to preempt poor inspection outcomes.
Grew start-up agency to manage 400 projects per year with over $3M in annual sales by providing unprecedented levels of professionalism and customer service.
Directed accounting functions for internal buyout, ensuring a smooth transition to new leadership. Led transfer to new accounting and payroll systems in addition to employee transitions allowing new leadership to "hit the ground running" without a delay.
Purchased 20-year-old private industrial distribution firm, ultimately growing annual revenue by 200% in 24 months by building a customer-focused sales culture both in person and via web with web sales becoming 70% of revenue within 36 months.
Led continuous improvement efforts across four facilities resulting in 5M tons of quality aggregates produced and sold annually.
Increased productivity by 10% without increasing staff hours worked by identifying opportunities to optimize production while improving quality.
Built team environment that emphasized smart and efficient solutions, increasing company and client savings from $75K to $160M in hard and soft savings.
Remember you only need 3-4 examples on your resume document
What are keywords? Keywords are just that- key words!
They are the nouns and adjectives that are used to highlight essential skills or traits that hiring managers, recruiters, applicant tracking systems, and search algorithms are looking for. They are flags to call attention to items you want others to pay attention to.
Think of it this way – if you're looking for a Mexican restaurant in Springfield, Missouri, you would go online to a search engine and type "Mexican restaurant Springfield mo". This tells the search engine you want restaurants, specifically Mexican food restaurants, in the town of Springfield, specifically in Missouri.
Example A: A database administrator looking to work with Oracle databases would include mentions of 'Oracle' in their resume. If they mention MS SQL Server, MySQL, or Mongo databases in addition to Oracle, they'll get noticed for those as well. So if they prefer to NOT work with MySQL even though they know it, they'd leave it off their resume so as not to call attention to it.
Example B: A retail manager who wants to pivot into the field of logistics would include keywords such as "warehouse", "delivery", "expediting", and "inventory" to call attention to experience in those related transferable skills.
Example C: An account manager wanting to move up into a more senior role that involves directing a team would include words such as "leader", "managed", "directed", "team", etc.
ProTip 1: Make a list of any technical, industry-specific, or professional skills that you want to be recognized for. Take a look at job postings that interest you and see what words repeat and appear frequently. Keep a list of what you find so you can work them into your resume in both the summary and experience sections.
ProTip 2: Skill summary sections are considered standard for technical and engineering resumes, but they don't have to be. You can weave most skills or systems you have experience with into your bullet points and resume content. This saves valuable page real estate!
Taking the document you created in Assignment #2, add your Summary and Key Accomplishments to the top of the document
Refer to your list of keywords and try to work them into this section. If you can't, don't worry- you can try to add them in either Work Experience or the Supporting Information sections.
Be sure to save your document!
Sharing your personal work history.
In this section, we will write the 'meat' of your resume- your professional experience. This section is all about what you can do, which you demonstrate by showing what you've done. The intention here is to entice a future employer to want to meet you because they see potential in your record of accomplishments.
Below is an example from a professional resume to give you an idea of what this section should look like.
Remember: This section starts with the most recent or present position and goes back chronologically over the past ten to twelve years.
---
Business Development and Operations Representative, XYZ Company                                                                               2016 – Present
Responsible for business development for the ABCDEFG Division while simultaneously facilitating Six Sigma Performance Improvement trainings for hundreds of staff members annually.  Leveraged educational approach with clients and staff members alike, increasing retention internally and externally.
Collaborated with Six Sigma Master Black Belt to develop tools to assist with analyzing basic data and identify quality improvement opportunities.
Retained top accounts through educational presentations with C-suite executives, senior leadership, and front line leaders on the value of the 1234 program resulting in $1.35M in retained business over 10 years.
Designed messaging, collateral, and branding in collaboration with the marketing team that met the depth and breadth of the client needs.
Now let's break this example down: 
The title is listed first and in bold typeface followed by the company that is not in bold. Remember, the resume is about you, not the employer, so always highlight your information, not theirs.
Right align the dates of employment of the same line as your title and company name. Do not put the dates in bold.
ProTip: Use the Tab feature in Word or Docs to right-align your dates, not the spacebar. This is called "Flush Right" and you can search online for "Flush Right Tab in Word" or "Flush Right Tab in Docs" to see how to do this.
Follow this with a brief, two-sentence description of the position. This should be a high-level overview of what you do. Imagine explaining what you do to your favorite 90-year-old aunt. Break down the description in a similar manner.
Let's break down the description to see how it is structured:
The example: Responsible for business development for the ABCDEFG Division while simultaneously facilitating Six Sigma Performance Improvement trainings for hundreds of staff members annually.  Leveraged educational approach with clients and staff members alike, increasing retention internally and externally.
What is this person responsible for? "Business development within the ABCDEFG Division in addition to facilitating Six Sigma Performance Improvement trainings for staff."
What additional responsibilities does the person have? "They educate staff and clients resulting in increased retention of both groups."
List your primary responsibilities followed by your additional ones to create the description of the job.
Let's also look at the accomplishment bullet points:
Under each position list 3-5 accomplishments that highlight what you're most proud of from your time in that position.
Be sure these accomplishments are different than any of the accomplishments listed in the Key Accomplishment section.
Follow the same formatting rules as listed in the previous Key Accomplishment section.
Refer to your Checklist and write your Employment History as shown in the examples.
All of the other information
In this section, we will go over the additional supporting data that you need in your resume. This part varies from person to person but can include any or all of the following:
Education
Training
Licensure/Certifications
Technical Skills
Volunteer and Community Engagement
Associations
You'll only need to include the information that applies to you.
What to do if you do not have a degree but some college credits?
If you, like the majority of Americans, did not finish your Bachelor's degree but did attend some college, list the area of study followed by "coursework" and the school you attended.
Example:
Business Administration coursework  University of Indianapolis
Be sure to list any additional trainings, certifications, and licenses you have. These become critical to highlight your continued efforts toward advancing your education despite not having a completed degree.
Special information you might include:
Military Service
First, if you've served in the military, thank you for your service. If your service was more than ten years ago or was/is in the Reserves, create a section titled Military Service following the Experience section. Following the same format we used in the Experience section, list your final rank, branch of the military, and dates of service if you're currently still serving. If you're not still serving, simply list the final rank and branch of the military. On the next line, give the two-sentence description followed by two or three bullet points highlighting what you accomplished during your service.
Be sure to write this in 'civilian speak' and remove any/all jargon, abbreviations, etc.
Visa Or USCIS Green Card Status
Some clients opt to list their citizenship or work eligibility status at the end of the resume. If you choose to do so, add this (centered) at the very bottom of the resume.
Additional Language Proficiencies
If you speak languages other than English, consider listing them along with your level of fluency. This shows the reader that you have additional experience that may be valuable to them or their customers.
This assignment requires less effort from a wordsmith perspective, but that does not mean it is less important!
Using the data compiled in Assignment #1, add your Supporting Information to the last portion of your resume document.
Don't forget to save your work!
To assist you with the document format/layout process, please refer to the example screenshot below: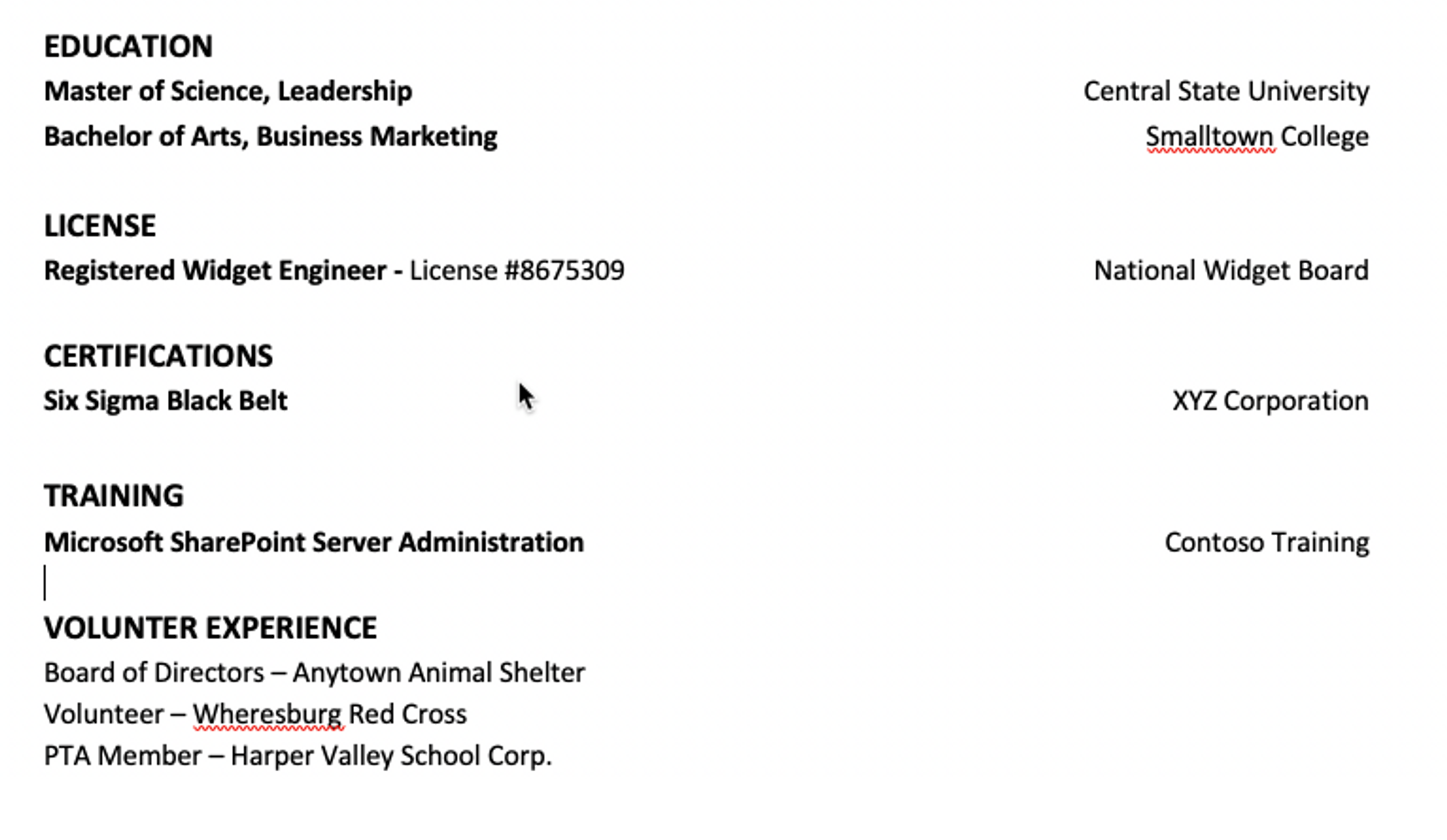 Proofreading and Finalizing
Congratulations! You've completed the writing assignments and are almost ready to upload your resume. Just a few quick things to consider before you do that.
Proofread the document

Have an 'editor' look it over

Backup your document

Schedule your revisions
Get ready to launch, we're in the home stretch!
It's just a fact of life that documents contain typos, misspellings, and errors. Resumes are no different, but it is important to fix them as soon as possible! The document you upload to the internet should be as close to perfect as humanly possible. Mistakes happen, but horror stories about hiring managers dumping a resume because they found a typo exist for a reason. Let's not discover if they're true or not.
Here are some handy tips as your proof your resume:
Use the spell and grammar tools in Word/Docs to double check They are not always 100% correct, but they can help you discover obvious errors.
Use Grammarly.com The online spelling and grammar checker is a welcome addition to any writer's toolkit. It's free to use with additional features available for subscribers.
Read your resume aloud Read each sentence out loud and see if it flows correctly.
Have your computer read your resume aloud Alternatively, you can use you Windows/Mac Assistive Technology to read your document back to you.
Get a second pair of eyeballs Get a friend or family member to read it and let you know if they find any errors.
Read it backwards This really focuses the brain to look at the words- it's hard to do but can often work wonders.
We mentioned it before, but it's worth saying again: Make a backup copy!
It's a simple step that will save you headaches should anything happen. Duplicate your document and place it somewhere safe.
#4 Schedule your next revisions
Some people go years and never update their resumes. This is shortsighted and costs precious time if you have the opportunity for a promotion or find yourself in need of a new job. Take the time now and schedule reminder at a future date to update your accomplishments and check your information.
You'll thank yourself if the worst happens.